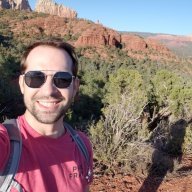 Joined

Oct 11, 2020
Posts

40
Reaction score

26
Location
Anyone know the recommend compent servicing at 105k miles and more specifically, where I can find the full rundown of all recommended servicing?

Just took my rig into a local semi specialized rover shop and got a quote for $650ish for the 105k mile service (would normally be $790 but I already paid for the full inspection (which is why i took it in). Im at 100k even so need to decide if i want to save the $140 --- and have them do it now.

The service they recommended seemed pretty weak --- air filters, oil change, tire rotation and basic fluid top off --- does that sound right to you all?

On another note, they gave Betsy a full bill of health with everything except the catalytic converter --- said that was causing the light ticking I was hearing --- so no need to do now but would be $2500 for parts and labor and if the bolts sheer during replacement, 1-4 hrs more or up to $450 more. Said that is with OEM cat as many aftermarket dont play nice.

Thoughts? Feedback?