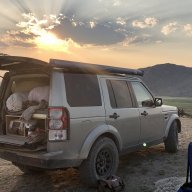 Joined

Jan 28, 2016
Posts

88
Reaction score

29
Description:​
Located in Ballwin Missouri (St. Louis area).
For sale. Fully maintained and in excellent condition. Used as daily driver and on some longer dirt road overland trips to MT, WY, CO, and other places. Never off-roaded "hard".
Impanema Sand color with tan interior.
Melville & Moon seat covers (leather is fine underneath)
GOBI Stealth full rack with removable sunroof panel, awning brackets and rear ladder.
TuffAnt 18" Steel Wheels (5)
Cooper Rugged Trail AT tires
IDCore Bluetooth CarPlay and Android auto installed.
Leather seats are the LUX Windsor style.
H8 AGM battery (biggest that fits)
Console fridge from RR Sport added.
LR headlamp and tail light guards.
GAP IID tool included.
Full LR pdf service manual included.
Service and maintenance notes
- 2nd owner. Oil changed every 5k since born. New front LCAs. New manifolds. New valve covers. Newer parking brake module and complete rear brakes. Spark plugs last year. All fluids changed multiple times since new. Timing chains original and tight. Air suspension original - never sags or runs compressor too much nor is battery ever low in the morning. Garaged most of its life and currently.
Front passenger headlamp cover broken. These can be DIY replaced with a part from Powerful UK.
Some hood chips and very light pinstripes (invisible when waxed)
Some bumper scuffs from parking lots
__________________