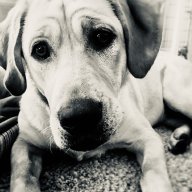 Joined

Mar 19, 2019
Posts

883
Reaction score

455
Location
Thought I'd share (yet another) report on the coolant crossover issue. I have a 2016 Landmark Edition (service date was April 2016 I believe) with just over 50K miles. Took it to the dealer three times (two different dealers) prior to warranty expiration for coolant odor, but no leaks were found on the pressure test. The head mechanic at one dealer admitted the coolant smell, but couldn't find any leak and there was no significant coolant loss, so they wouldn't do anything more.
With the shelter-in-place going on, I decided to replace the coolant crossovers (front and rear), water pump, and thermostat, both as a preventative measure and to see if I could locate the source of the coolant smell. Also replaced the supercharger isolator (which was starting to rattle a bit) since I had it off (separate post).
With the supercharger off, I didn't find any leak in the valley or on the back of the motor - no coolant anywhere, dried or wet. But the "Y" shaped pipe of the front crossover that goes under the supercharger was just barely holding on. The pipe has its ends buried in the block with some o-rings. The pipe had degraded in the channel that retains the o-rings, so that the pipe lifted off the block leaving the o-rings and pipe ends in the block. See attached pics. The pipe was simply eaten away above the o-rings with just a tiny lip left in the block. Once that lip is gone, the coolant would have come spilling out. This is at 50,100 miles, and I'd been smelling coolant since about 45K miles.
I've read similar reports on these forums, and at similar mileage from my recollection. So it seems that by 50K or so, these cross-over pipes become a liability.
I didn't see any leaks or other problems around the rear coolant crossover, nor around water pump or thermostat. But I replaced all these items as a preventative measure. Everything went back together and I haven't noticed the coolant odor after driving it for about 1000 miles or so, including a couple longer road trips. I can only guess some vapor was escaping from the front crossover.
A parts list is included below. I'm certainly no expert mechanic, but if anyone is thinking about DIY'ing this like I did and has any questions about the procedure, happy to give any help I can. I started trying to record a video with the intention of posting it, but failed miserably. However, there are several posts over at the Jaguar forum on supercharger removal that were helpful.
Parts List
LR090630 - Redesigned "water manifold" part of front crossover
LR092992 - Redesigned "water pipe" (Y-pipe) part of front crossover that goes into the block
LR109401 - Manifold - Heater (Rear crossover pipe)
LR097165 - Water pump assembly
LR028136 - Oil cooler tube (goes on the back of water pump)
LR095895 - Thermostat Kit
Other parts if you want to replace more hoses connected to t-stat/crossover, belts
LR050855.- Lower radiator hose (includes T-stat to hose adapter and coolant temp sensor)
LR033994 - Outlet tube
LR049990 - Inlet tube
LR071040 - Supercharger drive belt (note - there appear to be two sizes with different lengths - make sure you get the correct size for your model year)
LR051263 - Serpentine belt