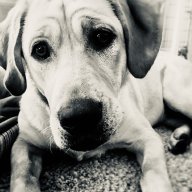 Joined

Mar 19, 2019
Posts

545
Reaction score

272
Location
I had not seen that coating issue before. Apparently its not actually teflon, but some kind of wear coating that allows them to get really tight tolerances. Not sure what causes the coating to come off, but it makes me think twice about using those valve cleaners sprayed through the air intake (which is something I was contemplating as a regular service).
Can't help with the extra *****. I do find it odd, though, that you needed a longer ***** in the front. When I did this job, they had just redesigned the front crossover pipes. The new pipe had a shallower shoulder on that front attachment point than the old one, and I could not get the longer ***** in all the way - had to swap it for one of the shorter screws from the bracket at the back of the charger.
That missing clip is really frustrating - did it drop into the engine bay? Try searching for evap quick connect fittings or even coolant quick connect fittings. You might also look at evap hoses for ford cars as these might still be ford fittings. For instance, it looks like a similar fitting on this ford evap hose for $40 (and free returns on Amazon):
https://www.amazon.com/Vapour-Solen...ang+2-Door+2.3+Ecoboost&qid=1631893922&sr=8-3
. Or maybe you could find a used hose on ebay.