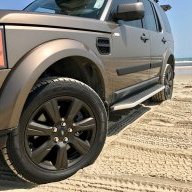 Joined

Jan 9, 2006
Posts

1,951
Reaction score

265
Okay, this isn't LR3 specific, but I predominately know this group and have seen several posts over the years of east coast LR3 owners enjoying beach driving in Hatteras...
http://hamptonroads.com/2012/01/hatteras-beach-drivers-will-have-pay-fee-watch-video
Starting next month, a drive onto the beach at Cape Hatteras National Seashore will require more than a capable vehicle and a little sense of adventure.

Motorists also will need to buy a permit.

The National Park Service announced Friday that rules designed to limit beach access and protect the environment will require drivers to pay between $90 and $150 for an annual permit, with a weekly permit going for about one-third of that. Visitors also will be required to watch a seven-minute educational video at one of the designated visitor centers.
More and more beaches are doing it. It's a pain. Sure, if it is your local beach than a yearly fee isn't that much of a burden, but if you drive around all these really add up. Just in my geographic area, there is a $90 fee to drive on Assateague, a higher fee to drive on Delaware beaches (and you have to be fishing at the time), and now Hatteras. I know there are several others I'm missing...
More info on OBPA;
http://obpa-nc.org/joomla//images/uploads/obpa map flyer.png