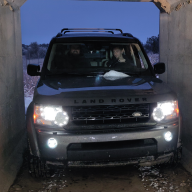 Joined

Apr 18, 2017
Posts

741
Reaction score

374
Location
UPDATE: I am still leaking coolant from somewhere... I just haven't figured out the source. It's strange because it is inconsistent and there are no signs of leaking or dripping from the engine... block valley is dry, front of engine is dry, back of engine is dry, hoses and connections are dry... yet, there is coolant on the skid plate (towards the front) and in the driveway. A possible correlation I am starting to see is that it only seems to leak when it sits overnight, and the outdoor air temp is fairly cold.. below 40ish degrees F. So far, it hasn't dipped below that temp very often, which kind of makes the inconsistency make sense. I am wondering if there is a hairline crack in the radiator that only leaks when it contracts from cold weather... previous pressure tests didn't indicate a leak there, but I guess I will try again. My knowledge is limited, so will be grateful for any help with a few (probably dumb) questions:

-I haven't pulled the skid plate off yet to see drip locations, but what coolant components are towards the bottom of the engine bay that I should consider?
-Will a cold engine cooling system pressure test from the reservoir show a radiator leak? My simple understanding is that the thermostat blocks flow to the radiator until it warms up.
-Is there a way to pressurize only the radiator using the top hose? (This may be a dumb idea)
-Maybe a dye test would be better?
If you have OEM coolant (and maybe other brands too, not sure) it will glow pretty good under a UV flashlight.
I had a very small leak from my radiator. Coolant never even hit the ground.