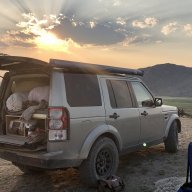 Joined

Jan 28, 2016
Posts

69
Reaction score

20
I dropped of my LR4 the other day for the fuel tank flange repair. A couple interesting things from that convo - I asked if they would check and advise in the DTC I am getting regarding air fuel mixture and they said sure, for $209. I said I pass, thanks. They then did it anyway (for free) as part of a multi-point inspection I guess they do on any Rover coming in for service. Cool! I'm down with that.
Then the recommended services and pricing and my jaw hit the floor....
- I did ask for a price on a new fuel pump while the tank is dropped. Shouldn't be any increase in labor? Well, that's $715
installed.
- Front Brakes are at 3mm so they recommend pads and rotors for $1400!!!

- The transfer case has a leak, but they can reseal it for only $1800! Uhm, no. thanks though.
- They diagnosed the air / fuel as a leaking exhaust manifold and or catalytic converters so the recommend replacing both Cats and related tubing I guess. This moderate size job for a steal at about $15,000 (no. that's not a typo). Any techs on here that have thoughts on this one??!! WOW!
As you can see, I passed on all suggestions... I will order new pads and rotors and self install or let a trusted shop complete, I'll have a reputable muffler shop close by check the exhaust (I do believe that it is leaking, but given I can source the parts for $1600 new I will have a shop complete if needed). The transfer case, well, it is a Land Rover after all....
This makes me think. Land Rovers have a reputation as undependable and expensive to fix. Is it North American dealers doing this??