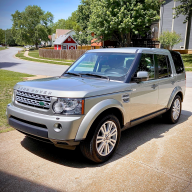 Joined

Aug 13, 2021
Posts

21
Reaction score

8
Location
I did some searching but didn't find what I was looking for.

The drivers door on my 2012 HSE is "stiff" for lack of a better term. Everything works just fine, but it's almost like there's something pressing against the door keeping tension on it. It opens... stiffly and sorta pops open violently. The other doors all open and close with the trademark LR thud and open smoothly. The drivers door also feels like it hits the striker a split moment before it latches making it feel clunky and not very quality.

Anyone experience anything similar or know how to make adjustments on the door to help with this stiffness and clunky latching? Do I just need to lube or replace the door latch?

The weather stripping on the body in the door opening is worn and needs replacement but looks to be installed in the correct place so I don't think it's that causing the "pressure" on the door.

Thanks!