So, I had noticed my exterior A pillar trim pieces were a little loose and making noise at highway speeds when driving in crosswind. Didn't think much of it, given it only made noise a couple times. I noticed that I had a couple drops of water fall on my left leg as well when it was raining, figured my sunroof drains needed to be cleared out...
Yesterday (Sunday), I had the driver side trim piece go for a ride at 75 mph. Had to jog about 75 yards back and scoop it out of the ditch. Got to work and of course it's pouring rain, and I know that water is going directly into my vehicle.. In total, I had two good clips left between the two trim pieces.
Anyway, no dealership was open to get new clips, so I did the best I could with what I could find in the auto parts store. While there I saw some 1/4" foam moulding so I picked that up to replace the worn/degraded foam that was missing from my trim pieces.
Turns out, side by side, these Nissan door panel clips are dang near the same size, and they cost a whopping $3.50 for 4 of them: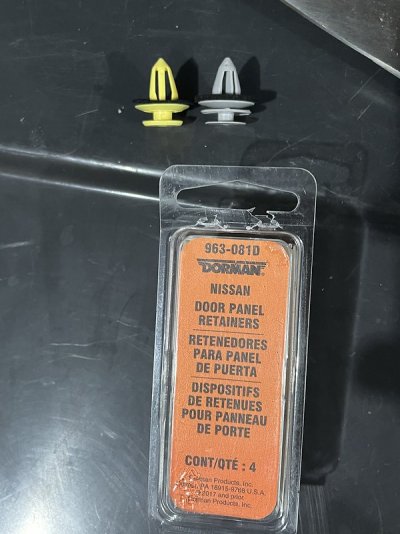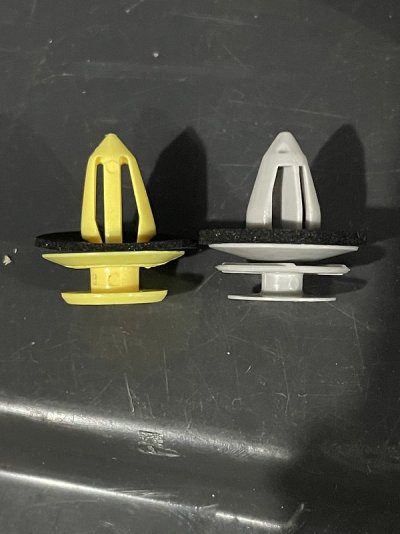 Only issue I noticed was that the base that slides into the trim pieces is a hair smaller so they like to slide around a bit more. I fixed that by putting a small piece of duct tape behind them to keep them from sliding out, but you could definitely skip that step and still pretty easily get them lined up.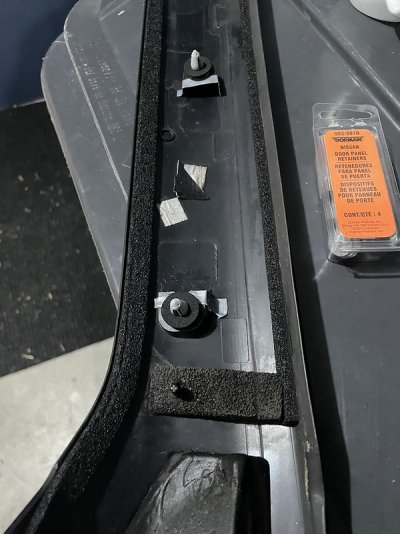 They firmly snapped into place, and with the new foam in there I finally realized how nice and quiet the vehicle can sound when you don't have wind pulling and sliding under the trim
Trim held nice and tight on the way home Sunday, and again on my way into work at 75 mph in the pouring rain. I should note, no rain got inside the vehicle either (mentioned above), so the foam + better clips seemed to make things water tight once again.