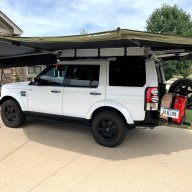 Joined

Aug 8, 2010
Posts

1,691
Reaction score

431
Location
That is a nice rig. What do you think about the rear locker? I'm curious about the auxiliary tank. This might be a long shot but is it designed in such a way that you could draw from it to fill a generator? I'm planning to overland in my '12 but I have 2 5 Wavian cans that I use. It would be sweet to get rid of the cans saving precious cargo space and keep the weight from the gas down low.
The rear locker is nice, definitely reduces wheel spin compared to just using the braked traction control. But for people shopping for an LR3/LR4 I wouldn't say it is a deal breaker. A non-locker version can go pretty well anywhere a locked one can, just might be slightly more work in really tricky situations.
I don't see any reason why you couldn't syphon fuel from the aux tank directly from the fill point. Its a straight hose down into the tank. The pump is another line from the tank into the main tank side of the dual filler assembly, so nothing in the way of the large fill pipe going into (or out of) the aux tank side.
I've never had issues with the evap/emissions system or throwing codes. The system functions exactly as it did before with one pressurized air volume that just includes the aux tank after install. The fuel filler cap seals up the system just as before. There are plenty of connections though to make sure you have sealed or that could give codes, but the system won't have any idea you added this aux system.