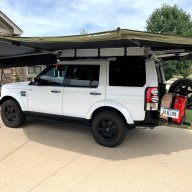 Joined

Aug 8, 2010
Posts

1,666
Reaction score

407
Location
The current craze in overlanding of these folks buying maximized fullsize trucks belies the fact that their definition of "overlanding" is really just long distance driving, as there's no way you can fit those trucks on most moderate-difficulty trails.

Which is fine, but making those long-distance driving trucks also electric sort of ups the difficulty a bit. I love the idea, but until technology gets to the point that you can unfold a solar array and recharge in a few hours, you're going to be limited. And I say this as a guy who's really contemplating Rivian after watching Long Way Up.
The fold out solar array would need to be absolutely massive to do any good over a few hours charge time.
But ya, agreed. I feel spoiled by the capability, payload, size of the LR4 while still being somewhat small, not very long and having amazing turning radius. Even in town I kinda want the smaller size. I just can't get over how big full size trucks are now. Just the hood height is crazy, you'd need a step ladder to change a spark plug and I am 6'2"