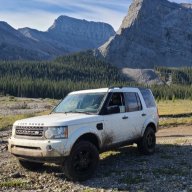 Joined

Aug 18, 2021
Posts

35
Reaction score

6
Location
Did a little bit of off-roading last weekend and Monday morning I noticed the front suspension was very low with minimal space between the fender and the tire. Figured something was up so I went for a test ride and sure enough I got a suspension fault about 10 mins into the ride. As soon as I got out of the LR4 I could hear the air leak on the front right air spring so it's time to replace the fronts. Land Rover wants $1500 each for the air spring/strut assembly. There are also some options on Rock auto and Amazon. Some options include the complete assembly, or just the air spring. Before the leak the ride was nice so I think the strut itself is fine and I can get away with just changing out the air springs. Has anyone here replaced just the front air springs? I found a video of a guy replacing the air spring on a L322 and I'm assuming it's similar for the L319 but a search on the forum didn't turn up much. Any recommendations on brands or perhaps something to stay away from?

One other question, how do I tell if my LR4 has "active dampening". I'm assuming it doesn't but not sure.

Springs in this unit are still original and at 90K miles or 145K KM's. This unit has seen a higher than average amount of off-roading during it's life.
Last edited: