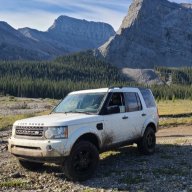 Joined

Aug 18, 2021
Posts

41
Reaction score

9
Location
A few weeks ago we were on bit of an excursion with a couple of other trucks and I had a bit of a scare with the LR4. We were waiting for the other vehicles to go up an icy hill and Idling for 5-10 mins. Outside temp was about 0C (32F) and I looked down at the temp gauge and it was to the very top. I immediately shut the engine off and popped the hood to inspect. Everything seemed normal. No leaks or boil over. I started to question myself... was it really at the highest heat level? Was I hallucinating? After about 10 mins I started it up and ran the heater on full blast. Temp was in the middle where it almost always stays. Turned heater to normal and made our way back to day camp to have a fire and lunch for a few hours and then headed home, watching the temp gauge constantly looking for any type of temp rise. It was perfectly normal the whole ride home. The wife reported no issues driving to and from work after that.

Fast forward a couple weeks and I was driving the LR4 and once again had a long idle waiting at the airport. Outside temp was 27C (81F). I got the call to meet at a particular door so I started off. Lots of traffic and it was a slow stop and go for another 5 mins. I hear the sound of the engine fan (i think) and it seems like it louder than normal and following the RPM of the engine. Look down at temp gauge and again it's at the top. I was in a no stopping zone so this time I cranked the heater and started to drive a little faster and it quickly dropped to normal again. Drove 20 KM (12mi) home, watching the gauge and no issues at highway speeds. Again, wife drove to and from work for another week and she didn't notice any problems.

Fast forward again to yesterday... She makes the trip home from work and goes to park in the garage and the door opener is not working. It takes me 5 mins to get it open. I hear the fan roaring again and I immediately go to the LR4 to check temp. At the top again, wth? Pull it into the garage and shut it off for a couple minutes for me to find my GAP tool. Install tool. Start it up and the temp gauge is at normal but within 15 secs starts goes up to the top again. I turn on the heater and let it run for a minute. Initially the temp reading from the tool was 109C (228F), (while the dash gauge read middle) once the temp gauge starts to climb, as I just described, the actual reading from the tool was 110C and holding. Shut it off after that and let it sit and that is where I am now.

It's a bit confusing as to why the temp gauge moves so quickly at the top of the range, but is very stable at the low to normal range. Is this normal? While it was hot and running I could definitely hear the engine fan blowing and I could feel the warm air blowing in the engine compartment. Any suggestions on other tests I could perform to try and figure this out?

I am well aware of the cooling system issues with these trucks (Thank you LR forum!) and I have been on top of the PM. Currently truck has 151,000 KM (96K Miles).

At 135,000 KM replace front crossover, water pump, and fan stretch belt, serpentine belt.
At 142,000 KM Rear crossover (heater mainfold) replaced
At 146,000 KM water pump (previous one developed a leak. This was the only non OEM part I had used. Lesson learned) and coolant replaced, and new T-stat

All work completed by myself with OEM parts. Cooling system bled with vacuum tool recommended on this site. (probably the best tool investment I've made in a while, if ever).

Rad is clean.

Zero coolant leak, however, occasionally I do smell a bit of coolant after it's pulled into the garage and warm, but the level has never moved off of the full (when cold) line. When hot it looks over full but I have never observed a leak, and like I said, after 5000 KM the coolant cold level has not moved at all.

I will add to this if I think of anything else. Any help much appreciated. We love this vehicle and I would like to keep it as long as possible. A little worried about that at the moment...
Last edited: