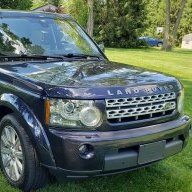 Joined

Jul 9, 2019
Posts

104
Reaction score

42
Location
Hey, all. 2013 LR4 about to hit 100k. A few questions for the experts (as I just ceramic coated the gorgeous Loire blue and took her for an evaluation spin, the wife usually drives it but not much with these gas prices so it's been sitting a lot).

Tranny seems to rev then "catch" from a stop. Otherwise completely smooth shifting. Just from a stop the engine will seem to rev a tiny bit before the tranny is actually like, "oh, you want to transmit power?" But only a sub one second hesitation. It's annoying but not a major issue Could this be solved with a filter and flush I should do at 100k or is this more insidious?
We can't leave the vehicle in accessory mode (engine off, ignition on) for more than 5 mins before it says the battery is low and it will shut off (was trying to listen to radio while ceramic coating). The battery is pretty new though. Is this a common thing?
My wife lost the second key. You can buy them on eBay but it sounds like the dealer is going to **** us on the programming? Thoughts?
Thanks, all this forum is always very helpful.