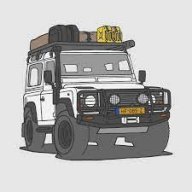 Joined

Mar 26, 2019
Posts

64
Reaction score

9
Location
Okay... I was driving home while towing a 4500# trailer when I had a severe coolant leak at the top of Loveland Pass in Colorado. I had extensive overheating and low coolant warning. Pulled over as soon as safe and cooled down, added coolant, and continued driving down the pass. Coasting most of the way down the mountain pass until I had to hit the accelerator and immediately felt lower power and heard a mechanical sound.

One tow later and $893 and the coolant outlet tube is replaced along with a few additional hoses. The bad news is that the tech reported HEAD GASKET FAILURE!

I decide to tow home with the intention of fixing myself over the next few months.... BUT, the tow truck driver brings to my attention that there are two shop rags in my driver side tailpipe!? So I start her up, let her idle, and hook up my obd ii tool to monitor Engine coolant temperature. It never exceeds 90 Celsius...! Okay, feels safe to drive it around. Nothing changes.... Okay lets go on the highway and drive up a few Colorado hills @ 90mph. Nothing changes. Temp never fluctuates outside of 87-91!

Tech recommended Head Gasket Replacement at the tune of 10-12K. Nothing I have done replicates any signs of head gasket failure. I was told by the shop that the engine started overheating and coolant reservoir bubbling within a short time of idling after completing outlet tube repair and testing for further damage. This is what they based head gasket failure on...

Are these guys just crooks? What am I missing?

I will do a chemical test for exhaust gasses tomorrow for peace of mind, but ***?!!!!