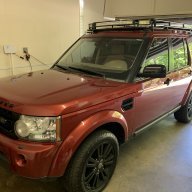 Joined

Oct 9, 2018
Posts

612
Reaction score

284
Location
Anyone out there that has replaced the valve cover gasket on a 5.0 engine? I've searched and searched and can't seem to find any info for my LR4. I've got a minor leak off the passenger side. Not a pressing issue but would like to address it in the next couple of months. Can anyone direct me to YouTube or other step by step?

I've done a valve cover before and am thinking it is not overly complicated on this truck. Looks like fuel rail, depressurization of fuel system, injectors, then valve cover removal and gasket replacement, rtv sealant, etc...

I'm guessing access might be a bit of a challenge to some of the valve cover bolts.

Assuming while I'm at it, new injector replacement is also going to happen...it's got 117k on the clock now.

Any help would be much appreciated!