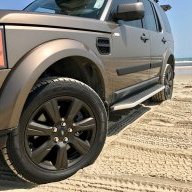 Joined

Jan 9, 2006
Posts

1,951
Reaction score

265
...this is actually presented as the Discovery "Sport". You will then see that, no, obviously the cargo area we are used to having will not be retained in this slanted version. We can hope, and be vocal with LRNA, that the next version will retain more cargo height in the main Discovery model to properly replace the LR4.
That's what confused me, it wasn't clear if this this is an LR4 replacement, an LR2 replacement or adding a new one to to the mix.
It does sound like (link below) that this is the LR2 replacement. If so, yes, I'd of course expect less interior space than the LR3/LR4/Discovery.
http://m.autoblog.com/2014/04/17/land-rover-discovery-sport-officially-announced/?post=2&icid=autoblog_river_article
What I really think LRNA needs to deliver, though, is
a "SPORT" version of the LR4/Discovery that is the same size
but with less high dollar gloss. Give us a capable vehicle, with lots of space, but scale back on the luxury which has gone overboard for a utilitarian vehicle. They should be keeping that on the RR badged vehicles but offering the U.S. two versions of the LR4 line. Those versions would be;
(1) I am actually going to take this offroad and regularly fill the back up with sporting equipment.
(2) Give me the most luxury you can for less than what a Range Rover costs.
Today LRNA only offers #2.