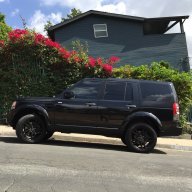 Joined

Oct 13, 2017
Posts

45
Reaction score

21
Location
Hi all, new 2012 LR4 owner here. I've spent plenty of time researching the boards before my purchase and have continued since, and have appreciated all the insight I've found. I hate to start a new tire thread here, the equivalent of another oil thread over in the Porsche world, but I haven't quite found what I'm looking for and hope to get some additional insight.
My truck has black 20's that I want to keep in their current good condition so I've been planning out a second set up for off-roading. My underlying goal, max out tire size without altering the car (much at least). The Comp 18's were more than I wanted to spend so I've picked up a set of stock 19's for off-road tires. It seems like the two best options for the 19's are the Cooper Zeon LTZ's and the Duratracs according to what everyone says here.
So, to try and be real specific, here's what I'm hoping to find some help with:
- What is the largest tire we can fit on stock 19's, with stock ride height?
- A fellow LR4 owner said he's got "clips" or something on his that allow him to keep his truck raised in the off-road height full-time, even above 30 mph (or whatever the stock threshold is for height automatically dropping down). Is that a thing? And if so, that seems like it would allow a larger tire on the 19's?
- Can we fit that largest size tire I'm looking to put on the 19's as a spare under the car? If not, how large can we get under there?
My ideal situation goes something like this: I'm able to put the truck in the high position and keep it there
while i've got the 19's on the truck, with tires maxed out. I have a large enough spare under the car that I don't have to load up another full size off-road spare in the boot when I go off-road.
Many thanks in advance for any insight. I know we all like to see pics, though i'm not sure how much they really mean in this instance. Anyway, here is the truck, my current wheel, the 19's I picked up, and my current spare.