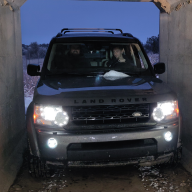 Joined

Apr 18, 2017
Posts

285
Reaction score

127
Location
So it's pretty known that these rovers get atrocious MPG. As far as this post is concerned, I'm talking about the 5.0 V8 (2013 MY), although I'm sure the V6 isn't much better.
Anyways, I've owned my Discovery for 51,000 miles now, and have charted every single fuel up. (Date, gallons, odometer)
As a result, I have a great history of my car and everything I've done to it. I bought it with about 43k miles on it and now have 94k miles. $10,000 worth of fuel later and almost 3 years of ownership.
Anyways, what I've been seeing is a decline in my average MPG. I do a bit more towing now, so the second chart has any MPG below 11 phased out, but it is still on a steady decline.
I have not replaced my spark plugs or cleaned my fuel injectors. Those are the things I'm really wondering about, so I might do something about that soon. I did have a pretty bad wheel bearing a while back, and replaced the front as a set, and the dealer had replaced one of the rear bearings a long time ago. All of the wheels seem to spin freely and without much resistance.
I also got larger tires, and expected a hit from that, but it didn't really change much (255/55/19 to 255/60/19)
Besides the additional towing, driving habits haven't changed much. I moved to a hotter climate which runs the viscous fan more, so that could be impacting this as well, but even my 100 day 200 day average is still on a decline.
Anyways, here are photos of the graphs, I've also attached PDFs if anyone prefers that format.
Not sure if this is interesting or if anyone has their own data like this, but that'd be awesome if anyone else keeps track of this kind of stuff like I do. Engine probably needs some work, and I'm sure I could swap out all of the other fluids as well.
You must be registered for see images attach
Here's the chart with nothing under 11 MPG taken into account
You must be registered for see images attach