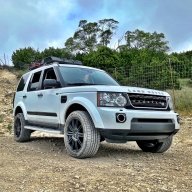 Joined

Jun 2, 2021
Posts

13
Reaction score

8
Location
Hello all, new owner in San Antonio, TX to a 2012 LR4 HSE Lux in Fuji White with 110k miles that I picked up the other month.
Since purchase I have done some research on various forums such as this to determine what common issues to address and be mindful of. Since acquiring the vehicle I have done a few preventative measures including new belt, water pump, thermostat, the front and rear cross over pipes, brakes, and the front valve block. I am a big DIYer when I can but did take the LR4 to a local indy shop to do the water pump and coolant cross over pipes. Other things such as the brakes and front valve block and a new sunroof drain line on passenger side, I did in my driveway. All parts were OEM/OES and ordered from FCP Euro to take advantage of the lifetime warranty. Also have done a few minor mods/fixes like replacing some bulbs, fog lights, lug nuts, fixing various interior trim pieces, adding a dashcam, sidesteps, crossbars and a universal roof rack.
I also ordered the BT GAP IID Tool. It has been extremely helpful in determining fault codes and diagnosing issues amongst other things like enabling some features such as the digital speedo. Let me know if there are other helpful features I can add!
Some questions I have:
About two weeks after I originally purchased the vehicle it threw a CEL for P0430: Catalyst system efficiency below threshold (bank2) and a P0133 : O2 Sensor Circuit Slow Response (Bank 1 Sensor 1). I ran two cans of BG Platinum 44K through the car over a two week period and I have not seen the codes return since, over a month plus now. Is this something I should I be concerned about as replacing the catalytic converter looks to be a bit an expense. I feel like the BG Platinum 44K fixed the issue but maybe someone has had their own experience to share.
Overnight or when the vehicle is parked for a period it sags evenly in the front end. Upon start up it airs up and rises immediately. I also have gotten an intermittent suspension fault that goes away upon restart. The Gap IID tool has provided the C1130-66 (AF) Code. Air spring supply - Algorithm based failure. I did the soapy water test on the front air springs and could not detect a leak, but perhaps I did it wrong as I replaced the front valve block (OEM Part) but even after the vehicle still sags in the front when parked. My next guess is it is the front air springs and I am needing to replace both it seems. Is there anything else I can check or another test I can try to help pinpoint that it is indeed the front air springs and not another component?
The vehicle has a intermittent squeak at low speeds over speedbumps that I am trying to pin point, not sure if it is from worn lower control arms, sway bar bushings, or a leak in the (front) air springs. I did spray some silicone grease on all the bushings and ball joints and it has since helped a lot, no squeaks since then but still want to address it properly as I feel the lubrication may just be a band aid to the real issue.
TPMS, I feel like the vehicle should / may have this being a HSE Lux but I have not seen a setting for it on the carputer info screen anywhere. Is there a easy way to determine if I have this installed or not? I did see some settings in the GAP IID tool but have not messed with those yet.
OEM wheel specs. I am not familiar with all the styles offered and was hoping someone could advise me of the width and offset of my stock wheels? As far as I know they are 20 inch and the 10 split spoke design. They are a great looking OEM wheel but I have a personal preference to minimize the gap to the fender line and am considering spacers, such as the 30mm Terrafirma set offered from Lucky8, so the wheels aren't so "tucked" and to provide a more aggressive stance. I know everyone has their own opinions on spacers but some help on my OEM wheels width and offset will help me determine the proper offset and width I need whether I keep these wheels or get some aftermarket ones down the road.
Lastly, for my mileage (110k) is there anything else I should be mindful of? Things that come to mind are spark plugs and maybe a transmission fluid flush but I do not want to anything that is not completely necessary. Sorry for the long post and thanks to anyone who has taken the time to read and respond.