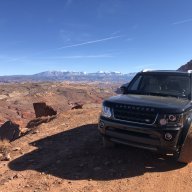 Joined

Feb 10, 2021
Posts

17
Reaction score

12
Location
I bit the bullet this week after lurking and looking at Disco 5's for a little while. I'm fairly newish to the Land Rover brand having owned a LR4 Landmark for the past year and a half. I fell in love, but was always interested in a little better road manners and mileage in order to get to the offroad exploring we want to do. I actually didn't want a Discovery, I really wanted a Defender. Test drove a few of them, thought I'd wait it out for a used one and the prices came down. Then I really started to look at our use case and what the LR4 had that I loved (such as the Tailgate and real folding seats) and saw that it really just wasn't available in the Defender and I'd have to wait for the 130 and probably a 6-figure price tag that was out of the question.
I purchased a 2018 TD6 HSE Luxury on Monday and drove it 800 miles back home. 25mpg at 80+ mph, no effort going through the mountains, 450-500 miles per tank all equal exactly what I was looking for. Looking forward to reading through the posts here to see what I'm in for, but so far this thing is great and exactly what we were after! The only thing I missed in looking at the car online before going to get it was the heated windshield option. I saw cold climate pack and thought I was good, but it was actually the cold climate comfort pack which is all the interior heated goodies, but not the windshield for some reason. Living in the snowy mtns that's a great feature and I'll miss it. (any one know if you can add it after the fact?)
Upgrades over time I'll be looking to do are: Black wheels in 19" or 20", Goodyear duratracs, FrontRunner roof rack, LED light bar, maybe a winch if we get that serious. It'll be towing a boat and in time a small travel trailer or offroad specific trailer (Boreas or TetonX or the like)
Oh and yeah I know the rule... pics or it didn't happen. Cheers!