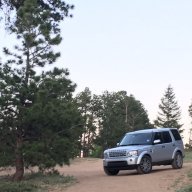 Joined

Nov 23, 2011
Posts

18
Reaction score

7
Location
2012 LR4 V8 122K miles, owned since new, always regularly serviced and oil/filter every 7k or so

Over Labor Day weekend, check engine light came on with:
- P2406 Evaporative Emission System Leak Detection Pump Sense - Circuit High
I had not recently fueled up and it's actually a newish fuel cap. I happened to be at a local race track, so a buddy cleared the code and I went on my way.

400 miles later, check engine light back on with:
- P2406
AND
- P061A Internal Control Module Torque Performance

Two questions:
1. Is this something I shouldn't drive with until I can get into the shop?
2. Also, I've spent about $12k on her in the last year between replacing the timing chain tensioner rails, air suspension compressor, tailgate actuator, and 120k service plus a new set of tire, pads and rotors. I keep thinking nothing more can break, but in less than a month, it's been the compressor, actuator, new battery, and now these codes. I mean I really need to pay off the most recent credit card charges on this before incurring more!