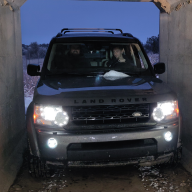 Joined

Apr 18, 2017
Posts

510
Reaction score

224
Location
Had my disco out in Moab last month, and about 2 days into the trip my power steering pump started to groan a little bit. It wasn't too bad, and eventually got better, but had me concerned so I decided against doing some harder trails.

At around 1100 rpm, in gear or in neutral, the steering wheel would vibrate slightly, and if I manipulated the steering wheel I could hear and feel the noise getting worse. Had a fear that my power steering pump was on its way out.

Yesterday I ended up buying 2 liters of Pentosin CHF202.

I didn't do the full fluid flush procedure that the manual specifies, and just pumped out the reservoir, added new fluid, cap on, started car, full lock left and right a few times, shut off and rinsed and repeated until I went through 1 liter.

The noise is now completely gone. $25 later my issue is fixed. Went on a short off road trip and didn't hear a single noise.

I probably will end up flushing out the other liter of fluid I have eventually, but glad that this fixed my problem.