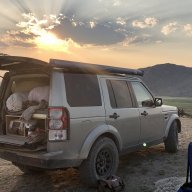 Joined

Jan 28, 2016
Posts

71
Reaction score

21
I had found the service schedules that Atlantic British posted for some LRs, but they had never done the one for the LR4, so I took their model and made one. I also included info on it from the FSM based on the "Arduous" schedule as almost all of us in NA will meet those conditions and its good to be ahead of the maintenance game with these cars as we all know.
Take a look. Steal it if you want and edit for your own uses. Suggest improvements and edits if you want.
A question- should new hubs be added as an item? My old LC had greasing hubs on maintenance and it would seem wise to replace the LR4's prior to them grenading near the north rim of the Grand Canyon or somewhere else remote. Screenshot below is just part of it...
Mileage Service Level Every 7,500 15,000 30,000 45,000 60,000 75,000 90,000 105,000 120,000 135,000 150,000 165,000 180,000 195,000 210,000 225,000 240,000 255,000 270,000 285,000 300,000 315,000 Service Tasks & Kits (see back) A A,B,C,O A,B,C,E,O A,B,C,O A,B,C,D,E,O A,B,C,L,...

docs.google.com
Enjoy!