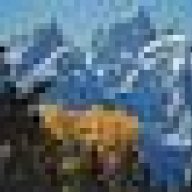 Joined

Mar 27, 2008
Posts

31
Reaction score

0
I first want to thank all of you on this forum for your time and super insightful help you are able to offer. You guys are golden. This will be a lengthy post, I apologize in advance.
For those who have followed my saga along, I am in the market for an '04 Disco with under 50K on it and I live in Jackson Hole, WY- over 4 hours from a LR dealership. I will do this one of two ways (I will do Carfax check either way):
1) Purchase from a LR dealership that is certified Pre-owned that is still under original factory warranty.
2) Find one from another dealership that has the low miles, hopefully has had 1 owner and all maintanence has been performed on time by LR and is still under original factory warranty.
I intend to get vehicle updated maintanence at LR and purchase an extended warranty (although not sure which one or what kind yet, thought I'd talk to my trusty local mechanic who works on rovers here in Jackson hole a bit more about this)
**Please note I will mainly be doing day to day highway driving, will be using 4 wheel drive quite a bit in winter, and only some 4 wheel drive on trail roads***
NOW, TO MY QUESTIONS:
1) I want to be able to do as much for my Discovery myself as I can, keeping all pertainent fluid levels to where they need to be, change air filters, hose checks, oil changes, tire checks, etc. HOWEVER, I am a complete novice at this. Where can I find out how to do all these things myself? Are there really detailed manuals, dvd's available? If so, what are the best ones and where do I find them?
2) From reading through forums, I feel the more I pamper my 'lil Landy, the happier it will be so where can I learn to be hands on? I did think I could pay my trusty mechanic a few hours to show me some stuff. Changing break pads sounds like a daunting task to me, but maybe it isn't so hard, I can change tires easily enough and am a female willing to learn more.
3) What tools, fluids, filters, hoses, (pads?), clamps, parts etc. should I keep on hand? I want to be prepared. Which of these items should I actually purchase through a LR dealership/service department? Chances I'll be purchasing my Disco in Utah, Nevada, Colorado or California so I'll most likely be passing by a dealership somewhere. I'd really like to have an arsonal of all the fluids I will most likely need on hand. That green stuff I've read about, the coolant, the oil, the fluids, all of it. What special tools? Oh yeah, I guess I should get one of those code scanners too.
4) I've mentioned it before, cold weather starts are a big issue for me. Today is April 14th and it was 3 degrees this morning. You can imagine how cold it can get months upon months. What do I need to keep on hand to insure that I'll get good starts as much as I can? Can I easily access fuel line to see if frozen and if it is, can I use those hand warmer packs to help melt it? I think I read somewhere that fuel tank should remain at least 1/4 full in cold weather, do you guys concur with that?
Ok, it's sort of like getting a nursery prepared for when you are ready to bring home the little baby. However in my case, I don't want a kid I want a land rover! My family would argue my priorities are a bit screwed up, but hey...I know what I want and foreknowledge, preparation, and patience will be key

to what I hope is a happy, long life for me and the "Landy". Some of you out there may argue a kid is actually easier, but I am trying to keep positive and proactive!
I thank you all for any assistance you throw my direction. A.J.