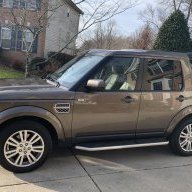 Joined

Feb 8, 2019
Posts

44
Reaction score

24
Location
OK ...
2011 LR4 HSE. 107k miles.

so I have been receiving Suspension fault messages over the past few days SPORADICALLY. not sure if there is a correlation or not but it has only occurred when the temp has dropped below 35degrees and it has only happened while driving on the highway at speeds above 45mph.

when this FAULT occurred, the suspension seemed to lower all the way to the stops and the ride got real "Bumpy" and message on instrument cluster read something like slow down below 40mph or something.

The EAS controller on the center console did not register any setting.

quick fix - I turned the vehicle off, and then turned it back on and it seemed to reset. then it went through a similar cycle when back on the highway. but not around town when speeds are below 45.

BTW...im NOT driving in OFFROAD height . this only occurred during NORMAL height and the vehicle lowered to ACCESS height or LOWER... since it felt like I was riding on the Bump Stops....

ANY ADVICE or IDEAS??? im going to check it with my GAP iiD tool but I presume it will just say "Suspension Fault".