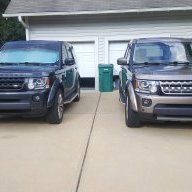 Joined

Dec 8, 2018
Posts

610
Reaction score

279
Location
2015 LR4 LUX 66000 miles.
We just moved to TN from GA (~400 miles) and my wife stated the the rover "felt weird". I drove it for the next couple of days. I drove to work with no issues, but after starting the car again (~ 1hr later) it was idling poorly. I drove it a mile up the road and a CEL finally popped. I checked it with the GAP tool and it was P0267- injector 3 circuit low.
I reset the code and it immediately came back.
I called a couple of local indys but they were all booked until next week. Limped it the 10 miles home and attached were the new codes. I pulled the injector harness for the 3rd injector and reseated the others. I cleared the codes and restarted the car and the CEL has not returned for the last couple of days.
The engine is driving fine now, but the drive train feels like it is dragging (coasting on the highway without depressing the throttle). I'm sure the drive train just needs some new fluids, but what are your thoughts on the CEL?
Preemptively replace all injectors and plugs while I'm in there? Any thoughts on the catalyst damage and what would that "feel" like?