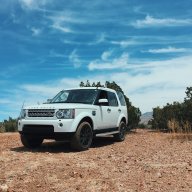 Joined

Oct 24, 2017
Posts

29
Reaction score

14
Location
Someone is defensive.

Just for the record, you brought up buying a new D5 ($70k+ car) because I suggested the possibility of spending a few tens of dollars on new, factory parts instead of all the work you put in without the guarantee of success. It appears to have turned out well, but you did not know that would be the case.

I am all for solutions and working on my LR4. But if $40 gets me new, OEM knobs, it's a no-brainer, IMO.

Best of luck with your knobs.

I'll tell you as an mechanical design engineer that the paint you sprayed doesn't stand a chance at holding up as well as the factory knobs - not with heat cycles, oils, friction, etc. Hopefully it will last you long enough to have been worthwhile.

So much for trying to be helpful.
I was referring to iconoclast but just trying to help nonetheless! I think I quoted you just in reference to the info I was trying to share. I feel the same way, I was just showing what worked for me and I got some lame response on why I didn't just buy new knobs, everyone has their way of problem solving, in my opinion take it or leave it.
Anyway, see ya!