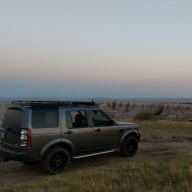 Joined

Nov 13, 2019
Posts

18
Reaction score

6
Location
I hope you are all staying healthy. I'm finally getting back to this work now that I've had some slowing down of the family calendar.....not by design of course. I'm going long car parts so that I have plenty to do while we are trying to flatten the curve and have some questions before I order. Truck is at 70k miles.
I cannot for the life of me find an online parts catalog that I have 100% faith in. I'm trying to track down the SCV6
water pump
, crossover pipes, and transmission fluid/filter change part numbers and have a couple of questions along the way.
Trans service
1) Is it worth it to find a metal trans pan that has interchangeable filter like Uroparts or similar?
2) LR065238 appears to be stock p/n for the pan/filter kit with gasket and bolts
3) LR065237 is a service kit - is this the complete mechatronic seal/bridge everyone refers to?
4)
https://www.thectsc.com/
looks like maybe a good one stop for the whole thing?
Cooling service
1) Is the t-stat a good thing to replace while in here - LR062498?
2) LR097165 looks to be a pump with gasket and bolts. Happy to pay for genuine but is Eurospare any good?
3) LR028136 connecting pipe
4) LR092992 inlet/outlet crossover pipe
5) LR090630 inlet/outlet crossover pipe
S/C service
1)
https://www.ebay.com/itm/New-Genuin...-0-Liter-Jaguar-Land-Rover-Range/112433704125
2) C2Z28265 throttle body gasket
3) Anyone have any success with the performance pulley from same vendor?
Finally, BG44K as usual and a spring time oil change
Many thanks and stay healthy!