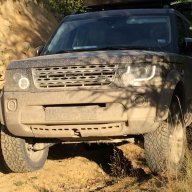 Joined

Nov 27, 2014
Posts

204
Reaction score

45
Location
Hi all,

I believe there isn't a thred like this yet... I am looking to install an ARB front diff lock, on top of the OEM central and rear ones. Has anybody got one and used it for some time already? Here are my question:

1) Do you notice sufficient improvement in offroading to justify the expense?
2) How about water crossings - what servicing needs compared to OEM diffs?
3) Should it be connected to my 2nd battery or the crank batter? I assume the former.
4) As it is manually activated, can it negatively affect the work of the automatic OEM diff locks?
5) Are there any long-term issues? Servicing, lifetime? I want my car to live upwards of 600K miles!
6) I've never seen one installed, can't find pics on the web. Is it compatible with underbody protection?

Thanks in advance for your answers!