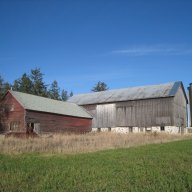 Joined

Dec 18, 2013
Posts

457
Reaction score

208
Just picked her up yesterday.
We are now a three, count 'em, three LR4 family !
2013 Ipanema Sand - purchased new
2016 Fuji White - purchased used
and the "new" one
2015 Firenza Red - purchased used - only 40K miles
All with the Almond interior and chrome wheels.
Most of the Firenza/Almond's appear to have been sold "up north", this one lived it's previous life in Dallas - so no salt damage.
Just a note about CarFax and service data. CarFax had zero - that's zero - service data.
But it turned out that the dealership where I found this one was her "home" dealership.
They printed out 8 pages of service data - this has been a well maintained vehicle.
A few minor cosmetic issues of course, and I only found one mechanical issue - the rear brakes are very near the end of their life - fronts look to have been recently done.
Front control arms recently done - they still had remnants of the factory stickers on them, and cross over pipes are the originals - based on their design.
My IID Tool is VIN attached to the first two and it only told me only the VIN for this one - so no engine data...
Our first drive was yesterday from Frisco, TX (a bit North of Dallas) to Houston.
5 long... hours.
The truck said 97F for most of the trip and it was a typical drive - mostly at 80mph punctuated with stop and go.
Nice initial stress test and absolutely no issues.
ONE QUESTION
So, the 2016 - my daughters - the engine is just loud - I'm not hearing any issues - it's just loud.
The "new" 2015 - the engine is - "wow" level quiet- yes the appearance cover has insulation not on the 2016, but it's more than just some insulation.
Am I missing something on the 2016 - does it need service - it's been to dealership for other work and inspected and they have never said anything needs to be looked at.
Your Thoughts - Thanks!