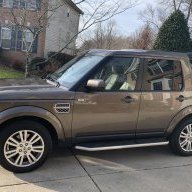 Joined

Feb 8, 2019
Posts

44
Reaction score

24
Location
Here is my issue: 2011 LR4 5.0V8 139K
GAP tool shows no codes?

Wife driving Truck - pulls out from stop sign accelerates to 20-30mph (all normal). Truck goes black and shuts off. she glides to a stop (still in gear) car dead on side of road. At this point i'm not sure if she tried to start the car while in gear or not but symptoms are same when I show up and try to put car back in park.

Car is off - manually shift the car into park and try to start., dash light show starts (multiple flashing) - loud grinding noise from shifter and car trys to turn over. car starts momentarily but only when I step on accelerator pedal (as if not getting fuel) extremely rough idle as if the car is going to shake apart. shift the car back into N and then back to P and it dies.

Attempt again, car in P. dash light show starts again (multiple flashing), car trys to start, same symptoms, now car ignition process continues and will not stop until start button depressed again. try a few times and same symptoms. car starts for a few seconds only after accelerator pressed - extremely rough and then the car dies when you move shifter or it will die on its own after a few more seconds.

Battery tests fine. 875 amps when starting volts were 14.4V now showing 12V - mostlikkely after a few start attempts of draining the battery. Car is still dead.

Any thought?