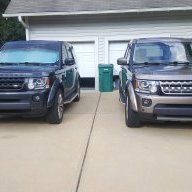 Joined

Dec 8, 2018
Posts

549
Reaction score

241
Location
Know it's been awhile since I've last posted, but thought I would chime in.
With the strut spacer and 2.5 in lift rods, the height sensors are already showing the computer a different voltage than stock. You're just calibrating the sensors to the new height. You are not manually adding +64mm, but rather ensuring that each corner is calibrated to the new height. It should already be close to the +64mm all around; you are just ensuring that this is the case and assigning the new voltage value accordingly.
I cannot speak to the traction control issue. As, I did not experience it. The methodology above merely ensure complete travel of the vehicle: access, normal, and off-road height; without the vehicle computer thinking that you have bottomed out.
@djkaosone
is absolutely right. You need a GAP tool.
I would encourage you to look at other threads across the internet. That is how I found the +64mm methodology. I cannot take credit for it
Expedition portal and AULRO have a wealth of knowledge, including a couple of threads on the SYA kit.