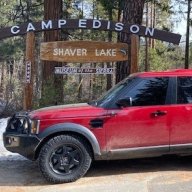 Joined

Apr 14, 2021
Posts

319
Reaction score

182
Location
I changed out my front rotors and pads about two weeks ago using Zimmerman and Ferrodo pads. The pads looked markedly different than what came off the truck. Large silver-colored cylinder thing on one side and thick anti-vibration pads on the backs. Upon attempting to refit, and doing everything to get the piston fully recessed, there was no way in the world these new pads were going to seat. After looking at the old pads, it seemed like it was the thin adhesive pad causing the clearance issue so I popped them off and bingo, pads in.
Fast forward two weeks and I now have brake pad rattle. It took me a while to track down but the noise appears to be the front pads rattling in position in their spring clips. So now I'm guessing I fudged up by removing those thin adhesive pads.
Naturally, I've tossed the shims, but I'd like to see if some replacement shims on the pads will fix it, or whether I'm now stuck buying another new set of pads? I'd really appreciate any input. Sort of kicking myself for rushing the install but it was getting late, wife and kids blah blah blah...but hey, she ran strong and didn't have a single hiccup on 300 miles of the East Mojave Heritage Trail!