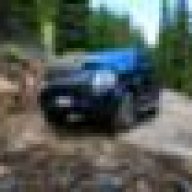 Joined

May 9, 2013
Posts

11
Reaction score

0
Hi all, I got back from a Land Rover design focus group session a few weeks ago. I just thought everyone would be interested in what we saw there. I did not sign any kind of non-disclosure documents of any kind, so feel I can share what we saw. However, they were very tight on confirming we were existing owners (no competitors allowed) and we had to go through a metal detector to make sure no cameras or phones were on the convention center floor.

It was mostly a design study on the exterior and interior of several new LR models. We saw physical prototypes of the Land Rover Discovery Vision concept, a 4 door 5 passenger Defender, and a 2 door Defender prototype. There was also a virtual mock up of an 8 passenger Defender that was pretty bad ass.

The Defender models were universally liked by my fellow focus group participants, I have scoured the web and not seen any spy shots that quite demonstrate what we saw of the Defenders. It was similar to the DC100 concept, but more futuristic/smooth if that makes sense. They looked beefy, and had that iconic white roof. Front end could be more aggressive, but the presence of tow hooks and other bits give me confidence of the off road target market. We did not see interiors, but saw some computer imagery and it looks very much like the Range Rover brand interiors in terms of design. A good thing in my mind.

The Discovery Vision concept was universally DISLIKED by my focus group. You have all seen the auto show shots of the concept at this point and will have your own opinions, but it felt good to actually express our concerns with LR marketing types. Everyone felt that it was too much like a Ford Explorer, that it lost the iconic styling, and that it lost usability (clearance, no tailgate, poor visibility, laughable off road tires (50 series?)). It was basically a Range Rover Sport, with out what makes a Range Rover Sport cool. Basically it would be a shame to call it the Discovery 5/ LR5. We even joked that it should maybe be called the "Revoque".

Not sure how much our feedback will be taken into account, but I love this brand and hope they keep their iconic status in the luxury off-road SUV market that they essentially created. The Defenders are certainly exciting!