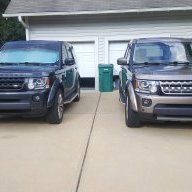 Joined

Dec 8, 2018
Posts

610
Reaction score

279
Location
Thanks for that answer... if I can find it!

But to answer myself...

I tried it and it turns out that on my LR4's, both 2013 and 2016, the heated windshields will come on at 70F - current ambient temperature.
(I had read in a post somewhere that it had to be cold out before they turned on, apparently not true..)

Using the IR Thermometer, I can easily take the temperature on the TX registration tag that is on the inside of the windshield.

First time ever turning on the function since we bought the 2013 new!

Both windshields work just fine, I ran them both up to 85F.
The 2016 is on a short timer and turns off too quickly (when that IID tool shows up I am going to see if I can change that!), the 2013 does not turn itself off (at least as long as I ran it).
The 2016 most definitely knows when that heater is on, the electrical load is noticeable at idle - that's the Benson.
The 2013 does not react when the heater is on - that's the OEM. (Pilkington and Rover markings).

Now a new cowling on the 2016...
Compared to your test, I offered a neanderthal solution. Didn't even think to recommend an IR thermometer. Nice!