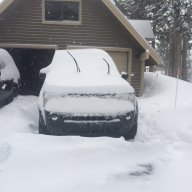 Joined

Sep 15, 2019
Posts

625
Reaction score

199
Location
Update on the truck, first I'm going to list everything I diagnosed then I'll list everything the shop has done.

fuel rail- checked for leaks/ moisture non found, checked sensor, read psi correct, voltage read within range and moved when cold, car preformed fine.

High pressure fuel pump, built pressure fine, acted normal, car preformed normal, presssure relief valve unknown

Checked ECM for corrosion/moisture none found, checked drainage from the weather stripping at the bottom of the windshield found it wasn't flush with the windshield. Poured multiple bottles of water into bits that were separated, water made its way to the fenders and drained out, no signs of moisture in the engine bay.

Checked coolant temp sensors, MAF sensors, voltage in range and moved when with engine rpm when cold, all read correct.

Starter/battery- jumper boosted start, car cranked faster then normal, made no difference car still cranked for an excessive amount of time.

Injectors- pulled them myself, and sent them to my mechanic to be tested, mechanic said injectors were tested and came back fine.
no smell of fuel in oil.

So I had the car towed over to the mechanic.

Mechanic pulled plugs and borescoped the cylinders, dry

Mechanic swapped fuel rail pressure sensor, still preformed the same

Mechanic pressure tested fuel rails, no leaks

They now said they are suspecting a bad ECM but need to do further diagnosing first.

Pretty wild seems like this may be one of those unheard of cases with these cars. I'll keep you guys updated on everything.