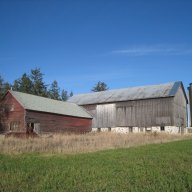 Joined

Dec 18, 2013
Posts

463
Reaction score

211
Bolts more likely to be rusted tightly if you have road salt in the winter.
Mine are Houston vehicles, came out no problem - whew!
But do use anti-seize when reinstalling in preparation for next time..
Just keep it off the threads!!!

Another good diagnostic:
Find a 1.5" lip up from the main roadbed. In suburbia that's the lip on your driveway as you enter from the street.
Slowly cross that lip and there will be a clunk directly under the floorboards just front-wards from the middle of the driver seat. This is the lower front control arm rear bushing. Essentially if there is any sound that is not clearly coming from the tire as it crosses, then it's time.

And as they wear the whole thing will feel "loose". Because they wear gradually, you will understand what that means after you install the new bits and feel how much "tighter" it is.

Not sure exactly why, but the drivers side rear goes first - at least in my experience.

Those bushings are oil filled. You might look for oil due to a leaking bushing.
I never did see any oil, BUT when I took it out, then it started dripping.. go figure.

My video above has more than you ever wanted to know... If you can handle the length and stay awake...