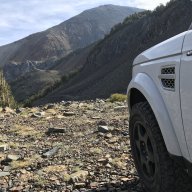 Joined

Sep 28, 2013
Posts

297
Reaction score

58
My 60K mile 2015 sprung a small coolant leak last week and after investigating I found the thermostat body was weeping coolant. I began looking into parts and after a few hours I thought, if I'm going to do this right by landroverforum.org standards, I'm going all in for a thermostat, front / rear coolant pipes, water pump, etc. After another few hours of tracking down all the necessary part numbers, I thought to myself, I don't have time for this repair, mainly because I don't want to pull the supercharger, so I brought it in to a local reputable independent LR shop for the work. They pressure tested and had the same results, leaking thermostat.

A day later and $2300 gone for the service I drove her home with no problems. She sat overnight and when I went to start it this morning, it had a rough go for a few seconds, felt like the engine was mis-firing, after a few seconds it all evened out and it ran as usual. As I was backing out of the garage I noticed a plume of white water vapor filling my garage. Ugh. I promptly called the shop. After going back and forth with symptoms and its current condition, there was no loss of coolant and the engine temperature still cold, we agreed that I'd start it back up up and see what happens. The symptoms had ceased so I brought it back to the shop, they ran codes, found logged mis-fires on cyl 5 and 6. At that point we went back and forth on possible causes, with a glaring faulty head gasket being the most likely. Their first cautious diagnosis was that while sitting idle overnight, excessive pressure due to an air-pocket in the cooling system found its way into the cylinder through some sort of anomaly in the head / block / gasket. Next on the list is for them to bring the engine up to temp and then let it sit overnight at their shop. They'll connect it up and start it in the morning, cold, and see what they find.

I'll take your guesses now...