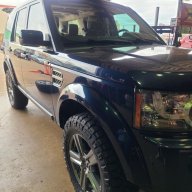 Joined

Aug 9, 2021
Posts

51
Reaction score

21
Location
The timing chain may never have to be replaced. It comes up a lot more often on forums than it does in real life. Frequent oil changes prevent the issues that wear the guides out. Plenty of people driving these motors with 200k on them on the original parts.

The control arms are a wear item. at 55k miles, they shouldn't need to be changed. that's a 75-100k depending on how hard the truck was driven and the surface it was driven on.
I have come to this conclusion myself, knock on wood. I have a one owner 2011 (well, I am #2 as of a month ago) with 122k miles and it was serviced at LR dealerships since new. It has never had an issue outside of scheduled maintenance other than normal wear items like brakes and tires, until the front left air strut started leaking overnight, which I replaced myself this past weekend. Yes, it is still on original cooling system AND control arms! The timing chains are quiet and everything except the Bluetooth phone connection works great. It was driven by a woman/stay at home mom in Florida and Texas. I don't believe it ever left the pavement.
I am going to have the cooling system proactively replaced (water pump, crossovers, hoses, etc). I have a quote for about $2,400 from a LR specialist indy here in Dallas (thoughts on that price?).