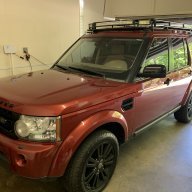 Joined

Oct 9, 2018
Posts

612
Reaction score

283
Location
Update.

I'm fairly disappointed with this guy at Atlantic British. He seemed to not care at all that the kit has the wrong hardware. Despite implying he would contact the tech group to resolve the issue, nothing happened. I told him the specific parts that seem to be wrong via the photo on their website for the kit. He did no homework on it to figure out what was what, so I had to do the work for him. I hope to get the two plugs I think I need shortly.

Here is the summary of my issues with that kit, at least with my late-build, 2013 LR4 HSE LUX with the HD pkg (with the electronic rear diff).

The kit,

https://www.roverparts.com/Parts/DTCM100B

, has all the correct fluids. The issue is with the plugs. For what is worth, their photo of the kit is accurate in the sense that you will get exactly what is on that photo even though some items are incorrect.

Transfer case:

As you can see from the image below, on the left is one of the two plugs that came out of the LR4. On the right is one of the two plugs that came with the kit. The kit has the wrong size (too small). Atlantic British says that is all they have and tough luck. All they were willing to do is issue a refund on the small plugs.

Rear, electronic differential:

Both plugs, fill and drain were correct. No issues.

Front differential:

Correct fill plug (same as rear diff), but wrong drain plug. See photo below. The one they sent is way off. It has a shoulder, no thread-locker compound, the size is smaller, and has a smaller hex drive instead of the 3/8" square drive. It also has no built-in magnet.

Though I cannot confirm it yet, it appears that drain plug on the front differential is the same as the one used in the rear differential. Again, Atlantic British was unwilling to sort out the error saying there was nothing they can do besides issuing a credit for the plug that doesn't work.

At this point, I've simply asked them to send me the fill and drain plugs for the rear diff and I hope they will work on the front diff.

I'd like to know for sure what the part numbers are on my 2013 LR4 for:

1) Transfer case plugs and washers

2) Front differential drain plug

Can anyone help with this? I'm sure others will run into this.
@atlanticbritish
will hopefully care...I've had similar experiences with them in the past. Unfortunate that this issue still persists. I have not ordered from them in some time as there are others that are more than happy to provide exceptional customer service when things are not right...