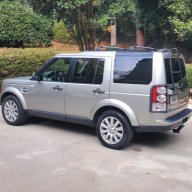 Joined

Nov 3, 2022
Posts

28
Reaction score

27
Location
Was the previous pipe from Atlantic British visibly different, i.e. lacking JLR or FoMoCo markings on it?

When buying parts from aftermarket vendors you must be VERY careful that they aren't selling aftermarket copies when you think you are receiving OE/Genuine JLR parts.

Also keep in mind that OEM is not the same as OE... some vendors have misleading marketing copy. The OE part is Genuine JLR, with a JLR package/box/label, what the dealer sells. OEM is aftermarket that

should

be manufactured by the same company as the OE part. OEM is sometimes the same as OE but without the Genuine box/label, but not alway; in some cases the OEM part may be different/inferior.

I detest vendors that don't make this explicitly clear on their websites. If the price seems too good to be true, it probably is.
Yes. The one I purchased from Atl Brit did not have the FoMoCo marking on it. I don't think they were being misleading; I think I just misinterpreted what I was purchasing... Again, I purchased over the phone, and when I purchased the Genuine LR Waterpump & oil cooler pipe "Kit", I mistakenly assumed I was also purchasing the genuine LR crossover pipes as part of the kit. No harm, no foul.. I just should have paid more attention. To be clear about Atl Brit, they have been a very helpful resource for me and I will continue to buy parts from them as needed.