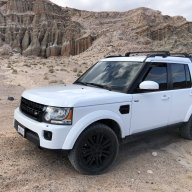 Joined

Jul 26, 2014
Posts

489
Reaction score

222
Most if not all dealers do not handle their own glass replacements but simply sub it to a third party. What you will get a dealer hopefully is new garnish clips, cowl (if needed) and some experience (hopefully) with the model by the installer. In my experience (and we replace a lot of glass up here) the job quality comes down the installer. The "best" performing glass i have had (longevity, distortion and rain sensor) was a cheap "Benson" replacement. That being said I would lean towards Fayao or Pilkington simply because I know they are manufactured in North America.
Yeah I was told by LR Pasadena and Safelite Pasadena that these dealers do not do glass. So whether you get it done at LR or safelite it's always the same people doing it. I got a fuyao replacement heated. No issues. He used new clips. Did it mobile. Fuyao is the replacement glass for pretty much all oems. There is a doc on netflix about then that's interesting.
Personally I think it just comes down to the installer.