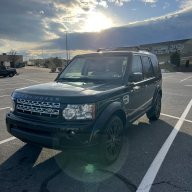 Joined

Sep 1, 2020
Posts

28
Reaction score

18
Location
A few weeks ago I purchased an LR4 form Cars and Bids with around 88,000 miles. I've gone back and forth on getting into a Land Rover for years and decided now was a good enough time, as prices have withdraw from pandemic highs. Dealers still want 19-25k for a decent LR4 or sport. It's a second vehicle - I don't mind the maintenance/repair costs and I wanted a project for this winter. I've started the processes of making it a ~mint weekend vehicle that can be relied on during out of state trips when family uses it. To summarize…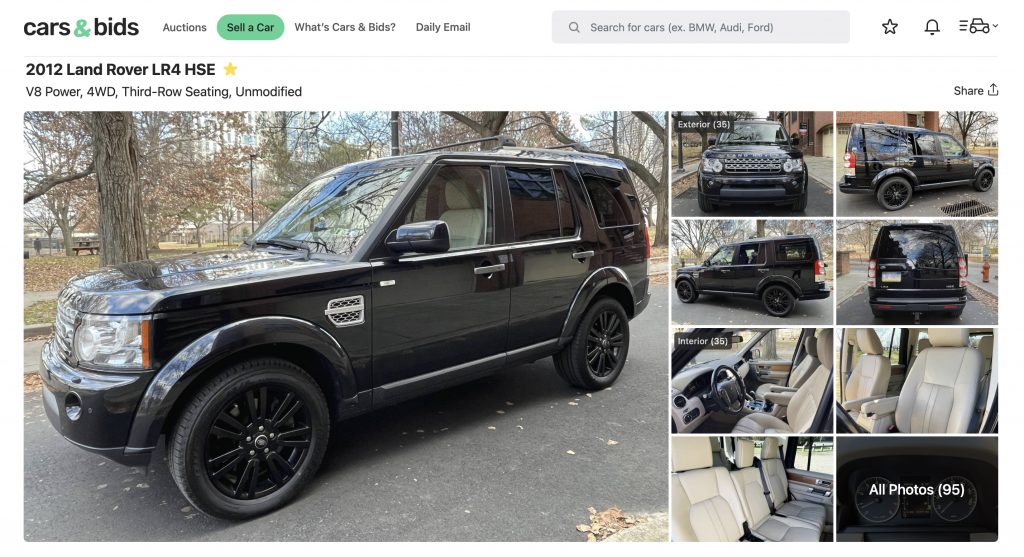 The Bad
Original timing chains (although no noise on acceleration, warm start, and no slack when checked with a flathead through the oil fill port)
Original coolant pipers as far as I can tell, with a slow loss of coolant. No drips, but I can faintly smell it - assuming it's probably laying in the valley. This is the next maintenance item on my list.
Rear third brake light is cracked and was leaking watering into the tailgate. I've got it sealed at the moment with 3m clear protection but plan to replace it on a warm day so the windshield sealant cures correctly
Front tires replaced, rear tires not. Have two matching tires coming for the rear, but lugs on back axle are swollen like crazy!
Faint whine around 40-50 mph under moderate acceleration - sounds like the transmission but everything is smooth so maybe just in need of new fluid? Don't know much about how these sound normal when driving.
I got my first warning lights after moderate acceleration yesterday (turned right after braking and went up a hill, 2,900 RPM, e-brake failure, HDC failure, cruise control unavailable, transmission fault, suspension lowered for safety) however I haven't been able to replicate it in two more drives. Going to replace the brake switch sensor and see what that does. Getting error code p0724 - Brake Switch B - Circuit High
Stains on the interior, wear and tear
The Good
Timing chains seem to be in good shape and don't need replaced immediately. Engine seems to have been taken care of, with OCIs of ~5,000 under both previous owners purview.
Interior is in great shape after a deep-clean
Previous owner addressed lower control arms, sunroof drains, and a few other items like shift linkage
Suspension was replaced at one point or another (Will include picture of struts)
Now has 4 brand new tires on it and ride great
It's a well looked after Land Rover!
Maintenance I've done already
Replaced the trim clips holding the exterior A-pillar plastic on, now much more secure. No more noise at highway speed. Added extra weather stripping to limit water ingress.
Replaced the lower windshield cowl, as it was leaking and gross looking (and cleaned out all the gutters around the windshield, lots of debris from being street parked underneath a tree)
Replaced cabin air filter as it looked really old.
Cleaned Mass Air Flow sensors and startup seems to be a little smoother (doesn't need as many RPM's art crank)
Replaced the PCV values as preventive maintenance
Flushed the power steering fluid and replaced with CHF202 Fluid - Pentosin 00004330574. Power Steering pump is now silent. Highly recommend doing this if you have not already flushed the fluid. It's a heavy vehicle.
Replaced rear tires and ordered new lugs for rear axle (old lugs were swollen and rusted)
Will soon be replacing front and rear discs and pads with the full kit from FCP euro (Zimmermann discs, Pagid pads)
Currently running a can of BG 44k Platinum in the tank
Will be doing an oil change after cleaner in current tank is empty, using liqui moly 5w-20 special tec from FCP euro, OEM filter, and will likely do a liqui moly oil cleaner/flush prior to change as well. I live in Northern VA so doesn't get 'that' cold.
I've recorded everything down to the cent, so excluding auction fees and tax (as I would have paid that to a dealer anyways) I've got $15,370.83 invested with the above maintenance. Now that leads me to my question.. Loss of coolant / preventative maintenance…
I've got a reputable indy shop (specializes in LR, Columbia MD) that will refresh the entire system minus the radiator for at most $2,500. Will likely be between 2200-2500 is what I was told. Or I can buy all the parts OEM for around 1,100 (including WP, crossovers, gaskets, radiator hoses, thermostat, etc) and do it myself. I'm a DIY'er but I'm hesitant to overhaul the cooling system as these 5.0 motors are so sensitive to overheating. I also want to get it done within the next month or two and I don't know if I'll have the time.
Anyways I'll be posting more on this thread as applicable so follow along if you'd like. As always any advice is much appreciated. Will include some pictures to aid the story above.